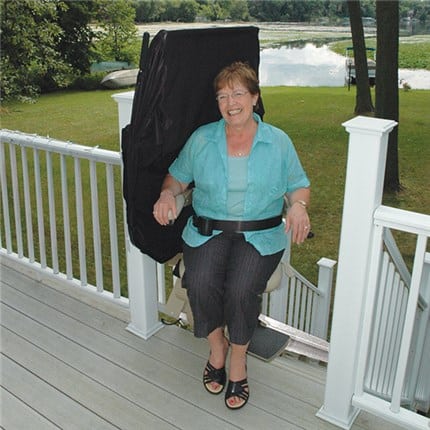 Bruno Elite Outdoor Straight Stairlift

  |  Model SRE-2010E
Whether you need help getting up porch stairs, going down to your pier or accessing your deck, a Bruno Elite Outdoor Straight stairlift helps get you there safely. Bruno's outdoor chairlift features marine-grade fabric and a weather-resistant cover that travels with the chair to protect it from the elements. With easy-to-use operation, the Elite Outdoor Straight stair lift features a soft start and stop and smooth, stable ride along the way.
Specifically designed to withstand harsh environments, Bruno's Outdoor Elite stairlift helps you enjoy the outside of your home safely. Whether you need help getting up porch stairs or down steps to the pier, Bruno's outdoor stair lift reliably takes you there with ease and comfort. A weather-resistant cover travels with the chairlift and protects it when not in use. Performance tested in harsh temperatures, you can count on your Bruno Outdoor Elite stairlift year round. Depend on Jenkins DME for your home accessibility needs now and in the future. Highlights include:
Elite Outdoor stairlift capacity: 400 lb (181 kg)
Performance tested 0°F-125° F (-15°C – 52°C)
Durable outdoor paint protects all steel surfaces
Anodized aluminum rail with covered gear rack
Onboard audio/visual diagnostics for easy service
Marine-grade vinyl padded seat and armrest
Weather-resistant cover travels with chair and protects the unit from the elements when stairlift not in use
Flip up arms, seat, and footrest create extra space on steps
Reliable performance even in a power outage
Generous-size seat with multiple height adjustments
Offset swivel seat makes getting on/off safe and easy
Tight rail installation to within 7" (178 mm) of wall
Extended rail lengths available
Gold warranty: five year major components; two year parts
Safety
Bruno products are designed to keep you safe while you ride in style. Safety sensors stop the stairlift if an obstruction is detected. A seat belt and swivel seat make sure that you can safely enter ride and exit your lift chair. Quality construction allows for peak performance in cold temperatures and power outages.
Specifications
Complete specifications available upon request or at bruno.com.
Standard seat pad size: 17.5" wide x 15" deep (445 x 381)
Standard footrest size: 10" long x 9" deep (254 mm x 229 mm)
Adjustable width armrests: Up to 21.75" (552mm) between arms